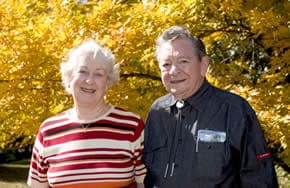 Lina Belle Berrier shared her love of music by teaching voice at Stephens College, Columbia, for 30 years. On February 7, 2016, Mrs. Berrier passed away at her home at the age of 93. Her voice and influence lives on through her generosity.
Mrs. Berrier teamed with her husband, Dr. Harry Berrier, deceased in 2013, for 62 years in marriage. In business they were known for their Show Me Bar-B-Q Sauce. Their venture began with Dr. Berrier's concoction he created in 1975, and grew to nationwide distribution for fans of his smoky-sweet blend.
Lina handled the business operations and bookkeeping for Show Me Bar-B-Q and continued to serve at Stephens College. She held a Bachelor's degree from Furman University and a Master's Degree in music from the University of Missouri.
While Bar-B-Q was an integral part of his world, Dr. Berrier primarily served as an emeritus professor in the University of Missouri's College of Veterinary Medicine. He was a 1941 graduate of MU, and a 1945 graduate in Veterinarian Medicine from Kansas State University.
Along with their passion for hard work and Bar-B-Q, the Berriers valued Missouri's conservation legacy. Harry and Lina both were zealous about bird watching and particularly about the annual return of nesting bluebirds. In order to support conservation, the Berriers donated $395,000 to the Missouri Conservation Heritage Foundation and $339,000 to the Missouri Department of Conservation. With these funds, prairie land will be purchased, reestablished, and then dedicated in the couple's memory.