4 Ways to Purchase Conservation Plates:
---
Click this link or the button above. Verify your personal information. When you reach the page with the permit/license options, you must select the "Other" tab to see the license plate options. Select the 1 or 2 year option. Pay by credit card (MasterCard, Visa or Discover). Print your EUA when finished.
Call during regular office hours to pay by credit card (MasterCard, Visa or Discover). There is a $1 convenience charge.
3. By VENDOR
Visit a Department of Conservation hunting or fishing permit vendor, including Bass Pro, Conservation Nature Centers and many Missouri Department of Conservation offices. The vendor will print and give you the EUA upon purchase.
Send completed form and check made out to MCHF to P.O. Box 366, Jefferson City, MO 65102. The EUA will be issued and mailed back to you.
---
In all cases, you must take a printed copy of your

Emblem Use Authorization*

(EUA) with you to the DOR office to purchase or renew your plates.
---
AFTER YOU HAVE OBTAINED YOUR EUA, contact the Missouri Department of Revenue for a specialty license plate application ($15 annual fee applies), and complete the purchasing process with them. You will need to mail the Department of Revenue your EUA, your specialty license plate application and your payment of $15.
The Department of Revenue will notify you by mail when your plates are ready for pick up from your local license office.
Be a Driving Force for Conservation:
Purchase conservation license plates to show your proud support for Missouri's fish, forestry and wildlife programs. You also help future generations learn how to conserve, manage and use these resources. Funds from conservation plates enhance nature centers, outdoor classrooms, stream teams, wildlife habitat and other conservation programs.
To purchase conservation license plates, first obtain an emblem use authorization form (EUA)* by making a $25 (1 year plates) or $50 (2 year plates) tax-deductible donation to the Missouri Conservation Heritage Foundation.**
Conservation license plates are available in 3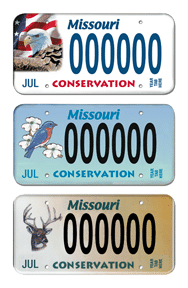 designs (bald eagle, bluebird or deer). Each animal tells a unique story about conservation challenges, environmental success and the responsibility of Missourians to ensure the continued presence of wildlife species in our state.
Heritage plates are available in personalized and stock versions. The plates are available for passenger vehicles, motorcycles and commercial vehicles of 6,000 lb., 12,000 lb. or 18,000 lb. gross vehicle weight.
The EUA will expire 180 days after the purchase date, so order your conservation plates soon after obtaining your authorization. You must purchase a separate authorization for each conservation plate.
Conservation plates may be ordered at any time, regardless of your current license plate expiration date, However, all Missouri specialty plates expire in July, therefore, we recommend first-time conservation plate holders purchase plates during the first half of the year. Find an example of the plate expiration process below.
---
*The EUA is the receipt for your tax-deductible donation to the Missouri Conservation Heritage Foundation and is proof of donation that is required to order a plate from the Missouri Department of Revenue.
**Confirm your two-year eligibility with the Department of Revenue prior to making a donation; donations are non-refundable. If you purchase two year plates, save your returned authorization form to renew your annual tags the second year.
---
About the Artwork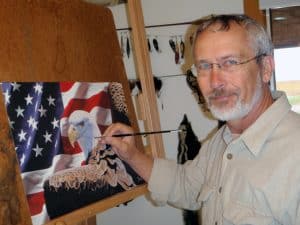 Nationally renowned wildlife artist Al Agnew of Ste. Genevieve, Missouri with his painting Spirit of Freedom, the use of which he donated to the Foundation for the bald eagle license plate.
Example of Plate Expiration:
If your regular license plates expire in February 2016 and you are purchasing a Conservation license plate for the first time:
One year registration –pay $25 (one year) and your license plates won't expire until July 2017.
Two year registration – pay $50 (two years) and your license plates won't expire until July 2018.
---
Questions?
Call the Missouri Conservation Heritage Foundation at 573.634.2080 or 800.227.1488. Once you have ordered your plates from the Department of Revenue, address questions about plates directly to that agency at 573.751.4509 or mvbmail@dor.mo.gov.