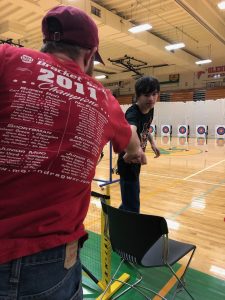 Dakota Ragsdale is proof that anyone can participate in archery. A junior at Miller High School in Miller, Mo., he wasn't supposed to live for more than a few months. He has congenital heart defects and he had to use a feeding tube for much of his life due to complications from fetal alcohol syndrome.
Health issues weren't going to get in the way of Dakota learning how to bow hunt. He loves being outdoors and was featured turkey hunting on an outdoor hunting show called "The Twin Factor." In order to fulfill his dream, his adopted mother, Carrie, said that he was determined to participate in the archery program that just started at his high school this year. Plus, this was a non-contact sport in which he could participate.
"He always arrives early to practice, ready to start!" said Allen Tennis, Dakota's coach. Through lots of practice, grit and hard work, Dakota received the Most Improved Archer award and a school letter at the recent school sports banquet. At his first tournament he shot 118. At the last tournament of the season, he shot his personal best of 228 out of 300.
Even though this was Miller High School's first year in the Missouri National Archery in the Schools (MoNASP) program, the team qualified for the state tournament in Branson March 22-24. MoNASP is an affiliate of NASP, which aims at improving educational performance amount students in grades 4 – 12. The archery program helps them learn focus, self-control, discipline, patience and the life lessons required to be successful in the classroom and in life through the critical thinking stills acquired.
At the 2019 MoNASP State Tournament, the second largest state archery tournament in the nation after Kentucky, there were 3,287 competitors for the bullseye and 3D tournaments with more than 14,500 spectators in attendance. It is sponsored and coordinated by the Missouri Department of Conservation (MDC) and the Missouri Conservation Heritage Foundation (MCHF). In the past, several student archers and teams from Missouri have won the national and world championships.
This sport positivity affects students in so many ways by giving them purpose and hope. Carrie said that after starting archery, Dakota's focus has improved, he is more dedicated, and he is better able to control his anxiety.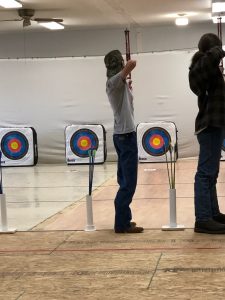 "To me, it looks like he doesn't have a disability," said Carrie after watching him perform in archery tournaments. She really likes archery because Dakota gets to be involved in a sport that includes everyone, regardless of athletic ability or size. When competing, students of all walks of life are together on the line with their peers.
Statistics show that school archery programs improve participants' school attendance, increase their confidence, improve behavior, increase physical activity and get them outside.
Dakota says that archery has helped him make new friends. He thinks more students should give it a try! He can't wait for the next season to start!
The Missouri Conservation Heritage Foundation would like to graciously thank Missouri's Electric Cooperatives for sponsoring the 2019 MoNASP State Tournament. Their dedication to the youth in this state is making long-term, life-changing impacts.