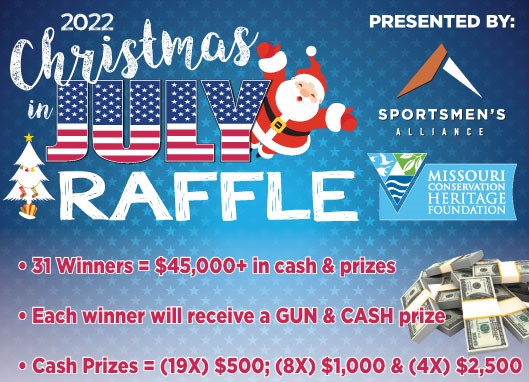 We're partnering with our friends at Sportsmen's Alliance to bring you another 2022 summer raffle! Same as last year, in partnership with Sportsmen's Alliance, the Christmas in July Raffle is a great opportunity to win big. $45,000+ in prizes! That is $5,000 more than the Mini MEGA raffle!
31 Winners: One winner each day in July
50/50 projected to be greater than $35,000, tickets are $25
Christmas in July tickets are $50 and only 2,500 chances are available
New this year!
CASH prize added every day of the raffle
Each winner will receive a gun AND a cash prize ranging from $500 to $2,500.
Don't wait to buy your tickets! Last year the raffle sold out in TWO WEEKS! 
As always, thank you for your support of conservation and sportsmen's rights in Missouri and throughout the United States. Your support keeps the Missouri Conservation Herihttps://e.givesmart.com/events/p3wtage Foundation and Sportsmen's Alliance strong and able to work for you and the future of hunting, fishing, forests and wildlife resources.