September 9, 2019
At MCHF's recent board meeting and retreat Aug. 27 and 28, 2019 at the Anita B. Gorman Conservation Discover Center, the Foundation welcomed three new board members – Stephen Mowry, Gene Gardner and Brian Durham.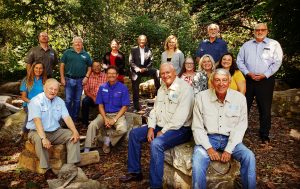 Stephen Mowry of Kansas City, Mo. has served in several leadership positions with MCHF and has graciously agreed to join the board again. He has been practicing law since 1983 and has been named as a Missouri/Kansas "Super Lawyer" after a peer review survey to identify the top 5% of lawyers in Missouri and Kansas. Mr. Mowry also sits on the board of Morningstar Development, a faith based, urban core non-for-profit.
Gene Gardner of Jefferson City, Mo. has 35 years of experience in the conservation field. He worked for the Missouri Department of Conservation for more than 18 years. Prior to that, he worked as a Senior Environmental Specialist for the Missouri Department of Transportation and Associate Research Scientist for the Illinois Natural History Survey. Mr. Gardner has served in leadership roles with Missouri Bird Conservation Initiative, Greenbelt Land Trust and Missouri River Bird Observatory.
Brian Durham of Bucyrus, Mo. owns and operates Grace Manufacturing, a beef cattle farm, and Piney River Brewing Company, an award winning craft brewery. He has served on the board of the Houston Education Foundation. Mr. Durham is an avid waterfowl, deer and turkey hunter. His entire family enjoys fishing for trout Smallmouth bass and floating Ozarks streams.