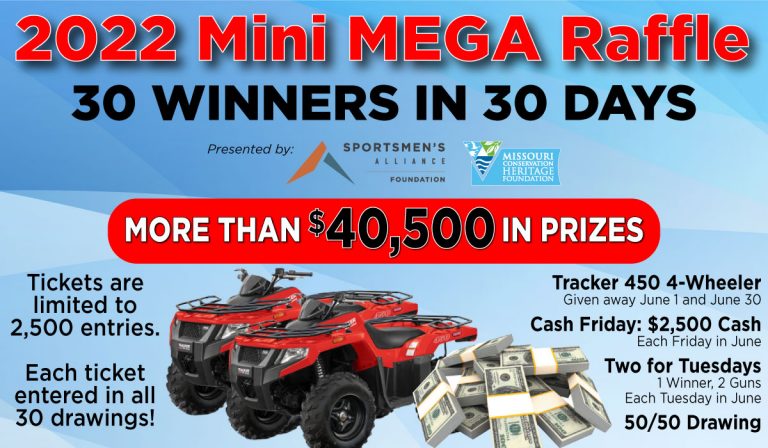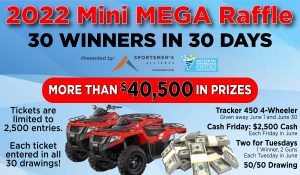 We're partnering again with our friends at Sportsmen's Alliance to bring you another GREAT RAFFLE full of awesome prizes worth more than $40,500! Why? Because we believe in their mission to protect and advance our outdoor heritage of hunting, fishing, trapping and shooting.
This Missouri-only, limited-ticket raffle is packed with guns, cash and TWO Tracker 450 ATVs. Every ticket purchased helps us continue our work in Missouri for generations to come.
What: Sportsmen's Alliance Foundation + MCHF Mini Mega Raffle
Where: Online HERE
When: One winner drawn daily in June 2022
Cost:

Each Mini Mega Raffle Ticket = $50

Only 2,500 tickets available

50/50 Drawing = $20 a chance

Winner keeps 50% of the total pot, pot size depends on participation
Total pot anticipated to be greater than $35,000
Winner to be announced 6/1/2022
The Prizes:
Every ticket purchased will be entered to win in ALL 30 drawings including:
One $2,500 cash winner EACH of the 4 FRIDAYS in June
28 guns
Two for Tuesday = 2 guns each Tuesday in our Two for Tuesday drawings
The June 1st and June 30th winners will take home a brand new Tracker 450 4wd four- wheeler worth $6,399.
Don't forget about the 50/50 raffle ($20 a ticket) that's anticipated to be more than $35,000 based on last year's raffle….amazing, right?
Good luck, and as always, thank you for your support.