Advancing Conservation, One Wet Nose at a Time
'Man's best friend' is also quickly becoming 'wildlife's best friend' with the rapid growth of canines in conservation around the world. Pairing a dog's super sniffer capabilities with a natural desire to work makes them a one-of-a-kind hero for conservation advancement. Spring 2021 the Missouri Department of Conservation (MDC) Canine Unit unleashed the power of the wet nosed, super sniffers protecting our fish and wildlife resources, searching for lost loved ones and more.
The canines have four main functions including tracking, evidence search and recovery, wildlife detection and doing public programs. In some ways, conservation dogs are similar to search and rescue dogs, bomb-sniffing dogs or narcotics K9s. Their essential duty is to use their nose to detect hard-to-find targets.
These canine conservation programs have proven to be a tremendous aid in resource law enforcement work. MDC is the 37th conservation agency in the nation to add a canine program to its enforcement branch.
Conservation Agent Corporal Susan Swem, stationed in Polk and Dade County in the Southwest region, has the honor of partnering with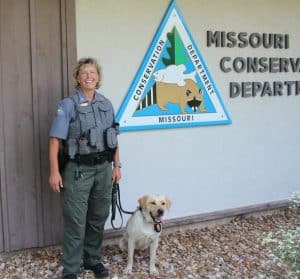 Astro, a yellow Labrador Retriever. Astro is three years old, and his favorite toy is a yellow ball.
"After a lengthy state bid process for suitable natural resource law enforcement-oriented dogs, we went to Alabama in November of 2020 and I chose Astro to be my new partner," said Corporal Swem.
Astro was raised by a retired gentleman and his wife from Minnesota. He got Astro and his brother, Apollo, at eight weeks old and started training them to work with the Bureau of Alcohol, Tobacco, and Firearms. However, due to Covid-19, he had to sell them to the kennel in Alabama, when they were only a year old. The gentleman and his wife are grateful to know Astro found a home in Missouri with Corporal Swem and is loving his new life and job.
Corporal Swem has been with MDC for 33 years and always wished the Department would start a canine program. "I had applied for the handler position and went through a formal interview process. Selections were based on the experience of the candidate."
MDC's Canine Unit is comprised of five dogs and their human partners.
Tex, a German Shorthaired Pointer, and handler Corporal Alan Lamb, Southeast Region
Korra, a black Labrador Retriever, and handler Corporal Justin Pyburn in the Kansas City Region
Penny, a black Labrador Retriever, and handler Corporal Don Clever in the Northeast Region
Waylon, a Shorthaired Pointer, and handler Corporal Caleb Pryor in the Northwest Region
Astro, a yellow Labrador Retriever, and handler Corporal Susan Swem in the Southwest Region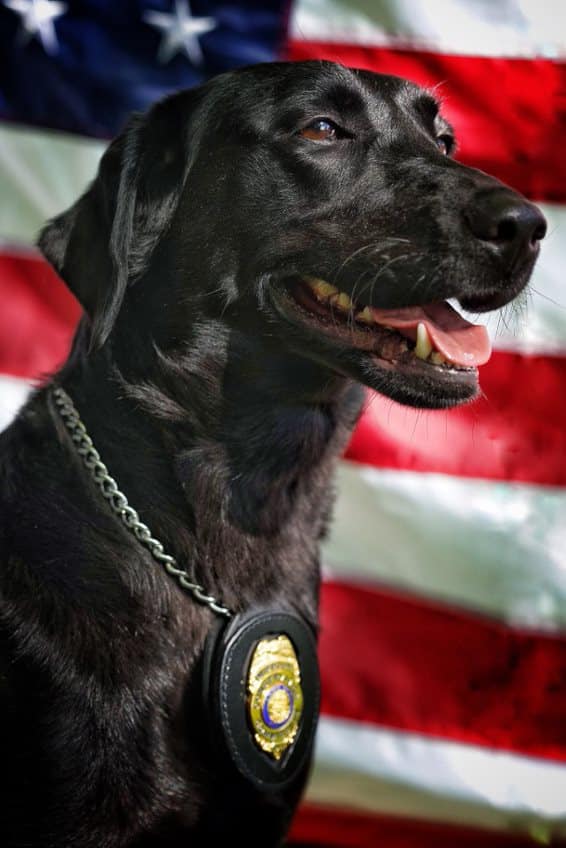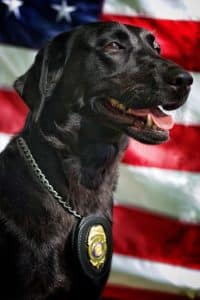 "I have always loved the outdoors, but really enjoy visiting with people who enjoy it as much as I do," said Corporal Swem. "Getting a canine partner is a dream come true. It's so much fun working with Astro and seeing the improvement in both of us as we go along."
While raw talent is an essential ingredient for a successful working dog, these canines' true potential is realized through thorough training efforts.
Corporal Swem started working on basic discipline including sit, stay and other obedience commands. In February 2021, the handlers and their canines traveled to the Indiana Department of Natural Resources to attend the 2021 Indiana Canine Resource Protection School. The academy was a total of nine weeks with three-week intervals and the team graduated on May 14, 2021. "Our training never ends as we continue to train daily to prepare for any request we may get."
Our New Conservation Heroes
Astro and the other canines have already made big impacts in the state. Corporal Swem and Astro assisted in locating a suicidal victim after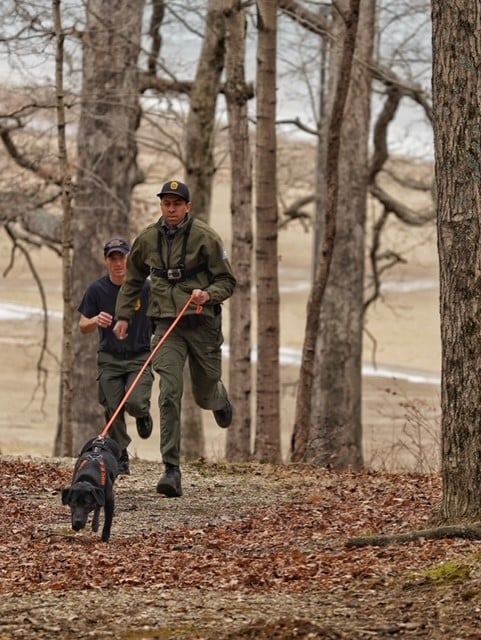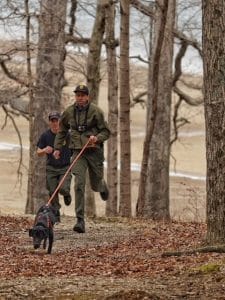 several days of first responders and volunteers searching. Astro located the deceased victim in 20 minutes, despite heavy search area contamination from other responders being in the area prior. In these unfortunate circumstances, families are in desperate need for knowing what happened to their loved one. Astro was able to bring the family some closure.
Tex and Corporal Lamb assisted in an investigation of taking waterfowl in closed season with 26 violations. Tex also located a shotgun and turkey breast hidden by an individual who started his turkey season a week early.
Penny and Corporal Clever assisted in Pike County from a call of campers illegally shooting animals. With the help of Penny, they located a poacher and several animals, like deer and fish, that had been illegally harvested.
Waylon and Corporal Pryor were called to a trespass call where two suspects shot a turkey, then shot in the direction of the reporting party when they were confronted. Waylon was able to locate spent shotgun shells that were later matched to shotgun shells in the suspect's hunting vest.
Korra and Corporal Pyburn assisted in locating and recovering a woman's purse at the James A. Reed Memorial Wildlife Area the day after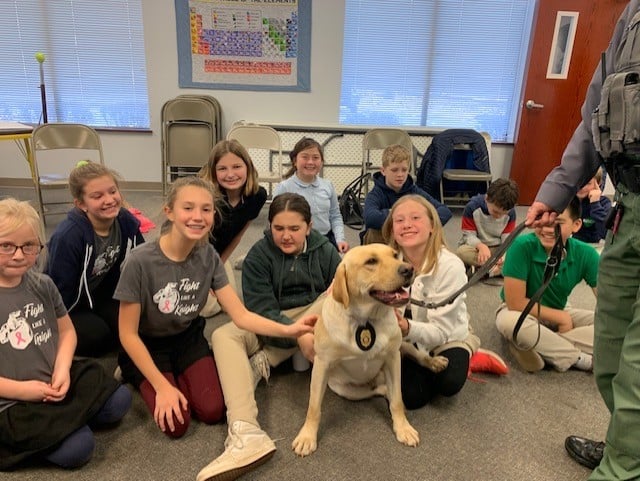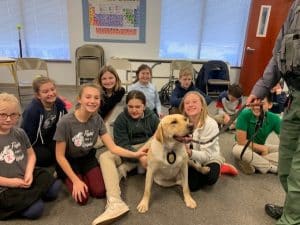 her vehicle had been burglarized.
Since June 2021, the MDC Canine Unit has had 134 cases and conducted 248 canine programs with approximately 11,834 program participants.
"The capability of the dogs is endless, and we look forward to the future to see how this program further assists MDC and our citizens," said Corporal Swem.
Support the Sniff
The value of MDC's Canine Unit is clear. However, the canine unit needs help to expand and add dogs across the state. With the program still in its infancy, help is still needed for:
Advancing Training, $500
Veterinary Expenses, $250
Equipment, leashes, collars, vests and more, $150
Shots, flea and tick treatments, $100
And of course, dog treats, $10
Drive your love for dogs and conservation into action by supporting these incredible canines.