By Lexi Buechter
Senior, Blair Oaks High School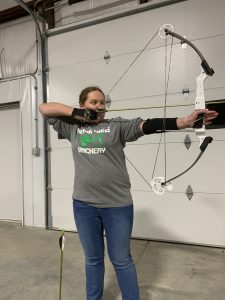 I like archery because it's more of a mental sport than a physical one. It's a challenge to keep myself focused on doing the exact same thing every single time I draw my bow. It's fun too. I must admit, after my first tournament I wasn't all that thrilled about archery. Luckily for me, my parents and my coaches convinced me to keep at it. Now I've won seven medals; lettered twice; and competed at state, nationals, and worlds. And I've made some great friends along the way. I like to think of myself as having two different friend groups: the ones I spend time with at school, and the ones I shoot with. I love both groups but it's refreshing to be part of an activity with completely different people than who I'm normally around.
I've learned a couple new skills from archery as well. I've improved my focus and learned to be more independent. It takes an incredible amount of focus and effort to repeat the exact same motion every single time you shoot, and I feel like this skill has helped me when it comes to my school work and my other sport, color guard. I've also learned to be more independent while being part of a team. No one else can shoot for you, and the work you put in is what you get out. Your score is yours, and it won't count for the team unless you make the top twelve. My goal is always to have a score that counts for my team.
Lexi participates in the Missouri National Archery in the Schools Program (MoNASP). Since 2008, MoNASP has been adopted by more than 700 participating schools and has affected over 200,000 Missouri students. MCHF is a long-term supporter of MoNASP and partners with the Missouri Department of Conservation to oversee the annual MoNASP State Tournament. The tournament has grown to be the second largest state tournament in the nation. Unfortunately, the state tournament was cancelled in 2020 because of COVID-19, but in 2019, more than 3,300 competitors and 14,500 spectators attended. More than 145 volunteers helped make it run smoothly.
 To experience what it's like at the state tournament, check out the 2019 highlight video, created by Branson High School students.