Indigo buntings are one of my favorite migratory birds! Their color is stunning!
Migratory birds need our help. About one-third of Missouri's breeding bird species leave the U.S. to winter in Mexico, Central and South America, and the Caribbean where their habitat is at risk or disappearing. They may have it great in Missouri during spring, summer and fall, but we need to make sure they have a quality habitat in which to overwinter.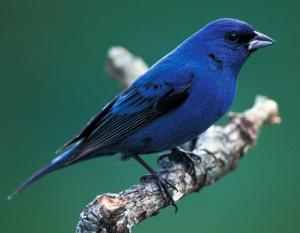 If you enjoy feeding and watching birds as much as I do, I encourage you to donate $10, $25, $50 or $100 to help us fund habitat and restoration projects that ensure our feathered friends have an abundance of food to eat in their wintering grounds.
If you don't donate for the birds, considering donating in memory of Brad Jacobs, Missouri's late State Ornithologist. He has done so much to ensure you get to see beautiful migratory birds each spring. I'd also like to take this time to remember Ron Coleman, a man who is a true conservationist, one who has dedicated his life to protecting and improving our state's waterways and green spaces.
– Tricia Burkhardt, MCHF Interim Director
Donate $25 to help keep our birds
coming back each spring
Our feathered friends are back! One of our favorite things about spring is all the birdsong we hear when spending time outside. Such happy sounds bring joy to our souls.
Birds of a Feather
Did you know that 84 species of Missouri's 170 breeding bird species flock together and leave the state during non-breeding seasons? Of those, 58 species leave the United States, spending the winter months in Mexico, Central America, South America, and the Caribbean.
About 20 years ago, our Missouri wildlife biologists realized that if we want to continue seeing the migratory birds we love each year in Missouri, we need to do more than preserve habitat for them here within our own state. In particular, they discovered that quality habitat on the wintering grounds of Mexico, Central America, and South America was at risk, as well as habitat along the migratory corridor.
In 2007, the Missouri Conservation Heritage Foundation (MCHF) got involved, raising funds and financing projects in Mexico and Central America. To date, we have:
funded research to identify key habitat for preservation efforts,
helped purchase land identified as key habitat to set aside as protected reserves for migratory birds,
aided with the marking and protecting of boundaries of these protected areas,
helped finance habitat restoration projects in key habitat areas for our birds on their wintering grounds,
funded the writing, production, and distribution of bird guides for regions in Central America to develop an appreciation of the natural resources by the population native to those regions,
sponsored bird-banding and technical trainings for avian biologists in Central America to support conservation research in the region,
helped establish a national bird society in Honduras, and
supported ecotourism by training and equipping local tour guides.
Remembering a Visionary
The individual in Missouri responsible for spearheading much of the migratory bird habitat work in Central America was Missouri's late State Ornithologist, Brad Jacobs. He not only recognized the urgent need to take action but helped develop a program that makes full lifecycle migratory bird conservation more accessible to state agencies. Today, because of Brad's efforts, we have a consortium of state agencies called Southern Wings that works together for bird conservation efforts in the Neotropics. Brad Jacobs recently passed away, leaving an important and lasting legacy.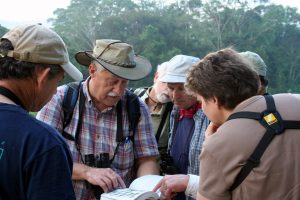 "Brad took his passion and love for birds steps further by thinking long-term about what everyone could do to protect migratory birds while they were beyond our state borders. Brad's vision and education efforts brought together many partners to make a big difference for bird conservation across the hemisphere," shares current State Ornithologist and friend, Sarah Kendrick.
Taking Flight!
While we celebrate all that MCHF has helped accomplish for migratory birds, there is still much to be done! There is still habitat that needs to be protected and restored for use by our Missouri birds. Your gift today helps ensure that your favorite birds will make their annual migrations for many years to come. Better yet, click the "Start Fundraising" button and challenge your friends to match your gift!