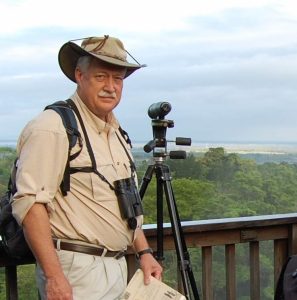 Brad Jacobs was a kind and gentle soul, an educator, and a naturalist. He was a husband, father, and grandfather. Brad always had knowledge to share – tidbits of information drawn from a diverse and busy life. He was one of the most knowledgeable birders in Missouri and never made any birder feel silly, no matter their birding experience.
Brad began birding at age 11 and has continued a lifelong study of birds for work and pleasure. Read about his Big Birding Year.  Brad got a bachelor's degree in natural resources from Cornell University in 1969 and spent three years in the Peace Corps in Colombia and Ecuador. For part of this time, he worked at the Darwin Research Station in the Galapagos Islands where he taught local schoolteachers about birds and bird conservation in the archipelago. During the remainder of the 1970s, Brad built houses in Colorado and the Missouri Ozarks. Brad taught building trades on the Navajo Reservation in Arizona in the 1980s, where he studied bird life of the region and wrote a bird guide, Birding on the Navajo and Hopi Reservations, in 1986.
In 1987, Brad began his career with the Missouri Department of Conservation (MDC) as a Natural History Biologist. He worked on the Breeding Bird Atlas while attending graduate school at the University of Missouri, where he received a master's degree in biological sciences with an emphasis in avian ecology. In 2001, Brad authored Birds in Missouri, a full-color MDC publication with species accounts and accompanying essays on current conservation and biological topics. He also coordinated bird surveys for difficult-to-detect bird species, grassland birds, statewide bird populations, and for many of the national bird surveys. Brad annually organized a Bird ID and Conservation Workshop for MDC staff, other agency staff, and some folks from the public for 15 years.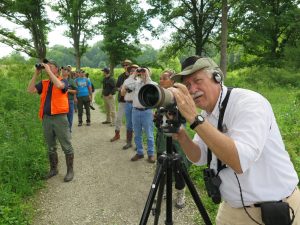 Perhaps the most impactful legacy that Brad leaves behind is his work to bring awareness to state fish and wildlife agencies about the need to support bird conservation throughout their full lifecycle. Brad worked hard to educate others on the threats that many of Missouri's breeding birds face on migratory stop-over sites and the wintering grounds  in Central America, northern South America and eastern Mexico. Internationally, Brad's leadership and vision were critical in the creation of the Association of Fish and Wildlife Agencies' Southern Wings Program. Southern Wings is a partnership of state agencies that support a common vision of providing a funding mechanism for bird conservation in Mexico, Central America, and South America. Southern Wings focuses on conservation efforts south of our border to support priority birds through their annual cycle while protecting the investments of participating state agencies. Long-distance migrant birds that we consider "our" Missouri birds often spend up to eight months of the year south of our border. Brad emphasized the need for conservation work on the wintering grounds and supported and cultivated partnership efforts in relevant countries that are key to migratory birds. Brad, with the support of then-Division Chief Dave Erickson, introduced the idea for Southern Wings to AFWA, and it took off – since its inception in 2009, Southern Wings has grown to over 30 participating states and raised almost $3 million for migratory bird conservation.
In 2017, Brad was the fifth recipient of the prestigious Partners in Flight Lifetime Achievement Award. Partners in Flight (PIF) is a network of over 150 partner organizations in the Western Hemisphere dedicated to all aspects of full lifecycle landbird conservation from science, research, planning, education, and policy across the U.S., Canada, Mexico, Central America, and South America. Brad was selected for his commitment to education and advancing the work of PIF in the Midwest, both nationally and internationally.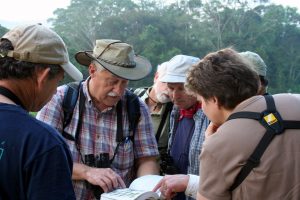 Brad was also awarded the Rudolph Bennitt Award, the Audubon Society of Missouri's highest honor, for his dedication to the principles of ASM and contributions to ornithology, the birding community, and conservation efforts of Missouri.
Brad served as co-chairperson of PIF's Midwest Working Group steering committee and previously was chair of the PIF National Steering Committee. Brad was a founding and charter member of the board of Audubon Missouri and has served as president and board member of the Columbia Audubon Society for eight years.
Brad was not only an ornithologist, but also a botanist. He spent much of his work time in the field collecting specimens for the Missouri Botanical Garden and Flora of Missouri project and has conducted workshops on identification of grasses, sedges, and rushes for the MDC vegetation monitoring teams that work on management evaluation and monitoring studies.
Brad Jacobs was also a loving husband and father to his wife Linda and their two children Nathan (married to Julie) and Fresa Jacobs. He was grandfather to Zane and Lia Jacobs and brother to John.
Here's to a life well lived, a loving family, adventures taken, and a deep passion and love for bird conservation. Thank you for your kindness and education, Brad. May you rest peacefully.