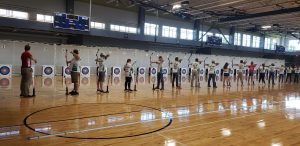 Support Missouri's youth by purchasing a chance to win these amazing packages in our 2021 MoNASP Progressive Raffle. For the next three months, until the 2021 MoNASP State Archery Tournament March 18-20, 2021, we'll continue to add items so stay tuned and enter today!
The Missouri National Archery in the Schools Program (MoNASP) is a school-based archery sports program, sponsored by the Missouri Departement of Conservation (MDC). Students in grades 4-12 learn the skill of target archery beginning at the local level with the goal of qualifying for the state, national and world tournament both individually and as teams. This program promotes education, self-esteem, and physical activity. Nearly every student – regardless of age, size or physical ability – can success at archery. It's a great team-building experience promoting skills and friendships that last a lifetime.
Raffle Packages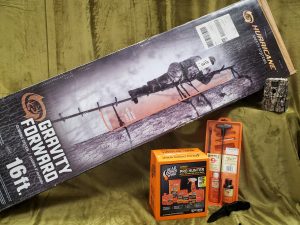 1) Hunting Gear Package (valued at $301)
Game Camera – Moultrie Model MCG-13181 M Series. Donated by Kim Becker.
16′ Gravity Forward Climbing Stick. Donated by Hurricane Safety Systems.
Ape Survival Field Knife (ultra sharp drop point blade, 1/8″ blade, stainless and rustproof, 8″ in length open and 4.75″ closed). Donated by Ape Survival.
13-piece Pro Hunter Scent Elimination from Dead Down Wind.
Deluxe Rifle Cleaning Kit – Hoppe's, fits 17 HMR, 17 REM, 17 Centerfire.
2) Family Game Night Package (valued at $152)
Sorry
Sequence
Connect Four
Trouble
Uno
1,000 piece puzzle
Popcorn and seasonings – 12 bags of ACT II Homestyle microwave popcorn, Amish Country Sour Cream & Onion Seasoning, Amish Country Popcorn Salt Ballpark Style
Popcorn containers
Boxed candy
$60 worth of pizza from Papa Murphy's – Family dinner package includes 2 family size pizzas and choice of 2 sides. Donated by Papa Murphy's in Jefferson City, Mo.
Pizza cutter, spatula, herb and cheese blend & crushed red pepper pizza enhancers
3) Camping Gear Package (valued at $375)
Coleman Duck Harbor sleeping bag (adult 33″x75″, 30-50 degree comfort range). Donated by Hoovers Surplus.
Coleman Sundome (3-person sleeping tent)
Happy Camper tumbler (16 oz.). Donated by Designed by Doughertys.
Outdoor games – ring toss, light-up bean bag toss, frisbee, toss and catch
Campfire toaster forks (Coghlan's, 4 forks – 20″ length)
Child bucket cap (Dan Dee)
Portable toddler bed (Regalo MyCot)
S'mores items (graham crackers, marshmallows, Hershey candy bars)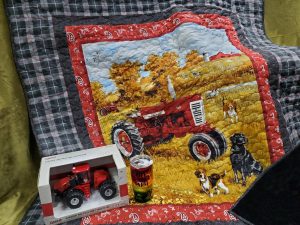 4) Tractor Enthusiast Package (valued at $280)
IH toy tractor (Ertle Steiger 580 tractor, 1/32 die-cast metal replica). Donated by D&D Outlet.
Tumbler (32 oz., Life is Better on the Farm, sunset colors). Donated by Just For You Customs.
IH quilted blanket (51″ x 60″ machine quilted with black cuddle fabric on back, machine washable. Donated by Donna Wankum.
5) Fishing Gear Package (valued at $215)
Cooler donated by Orscheln Farm & Home (Igloo Realtree 24-can square cooler bag)
Fishing rod & reel donated by Russ Giron (PGS Galyans Performance Series – Hi, Modulua HSD Graphite 662MHFS-B with Shimano Sienna 1000 Spinning Reel)
Rigged kit and fisherman's scale combo (Eagle Claw 61 pieces, Laker Fisherman's hand-held scale)
Fillet Knife (Ozark Trail, 6″)
Wire fish basket (Outdoor Angler, 13″ collapsible)
Rod sleeve cover donated by Russ Giron (Gander MTN, nylon)
Tackle box donated by Russ Giron (Plano three tray box, 16-1/4″ x 9″ x 8-3/8″)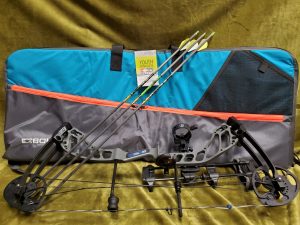 6) Youth Archery Gear Package (valued at $500)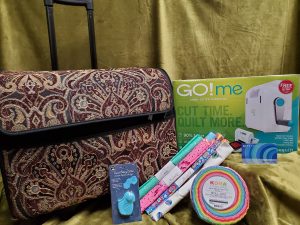 7) Crafting Items Package (valued at $321)
Accuquilt Go!me Starter Set. Donated by Donna Wankum.
$25 gift certificate to Speciality Quilts. Donated by Speciality Quilts.
Jelly Roll – Kona™ Cotton Solids New Bright Palette 41 pieces. Donated by Rooster Creek Quilting.
8 Fat Quarter Fabric Bundle – Free Spirit™ brand. Donated by Donna Wankum.
Collapsible rolling case. Donated by Top Stitch.
Travel rotary cutter – Dritz™ brand. Donated by Donna Wankum.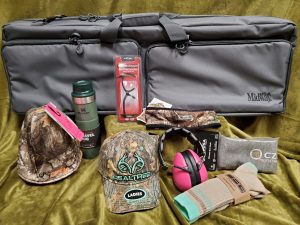 8) Woman's Shooting Gear Package (valued at $204)
Wool Hunting Socks – size 6-11 – DSG Outerwear™ Mid Weight Merino. Donated by Donna Wankum.
Realtree Headband. Donated by Donna Wankum.
Realtree Reversible Beanie. Donated by Donna Wankum.
Range Maxx Shooting Glasses. Donated by Donna Wankum.
Stanley Travel Mug. Donated by Donna Wankum.
Gun Case – MidwayUSA™ Heavy Duty Double Tactical Rifle Case 36″ Charcoal. Donated by MidwayUSA.
Walker's Low Profile Pink Folding Muff. Donated by Donna Wankum.
C-USA Silicon Gun Sock. Donated by Donna Wankum.
Realtree Cap. Donated by Donna Wankum.
Blood on the Leaves (not pictured) book – authors Rod Slings, Mike Van Durme, and B. Keith Byers. Donated by Missouri Department of Conservation.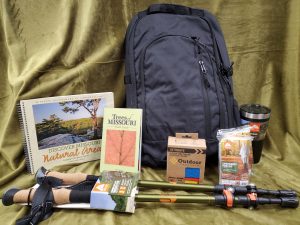 9) Hiking Gear Package (valued at $156)
Backpack – MidwayUSA™ , Heather Gray, 3 pockets, 20″ length, 14″ width, 3 lbs weight. Donated by MidwayUSA.
Trekking poles, 2-pack – Ozark Trail™ , Aluminum Quick-lock.
2 Emergency Ponchos – Ozark Trail™ , one size fits all.
3-pack Dry Sacks – Outdoor Products™ , 3 sizes – 12.7″x 7.5″, 15.1″x9.2″, 21.5″x10.5″.
Discover Missouri Natural Areas – A guide to 50 great places by Michael Leahy. Donated by Missouri Department of Conservation.
Trees of Missouri Field Guide by Don Kurz. Donated by Missouri Department of Conservation.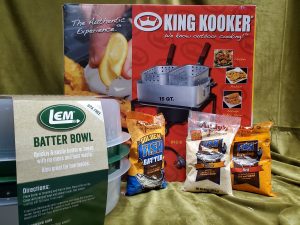 10) Cooking Gear Package (valued at $95)
King Kong 15-quart Cooker
LEM batter Bowl
Andy's Fish breading/seasoning
11) Grilling Gear Package (valued at $88)
Portable Charcoal Grill – Expert Grill™ , 14.5″ w x 14.5″ D x 18.1″ H
Charcoal briquettes – Expert Grill™ , 8 lb bag
Expert Grill Lighter
Expert Grill Pocket Thermometer
Mainstays 3- piece Grill Set
Royal Oak Tumbleweeds Fire Starter (16 pieces)
Bandana's Bar-B-Q Sauce – 4 – 16 ounce bottles – Southern Style Original, Chicago Sweet, KC Style, St Louis Sweet & Smoky. Donated by Bandana's.
Raffle Rules:
People who purchase ticket(s) within the United State are eligible to win. Exception: employees of MCHF are not eligible to win.
Tickets (purchased online and onsite at the archery tournament) will be drawn by a designated MCHF staff member.
The MoNASP Progressive Raffle Drawing will take place Friday, April 2, 2021. We will contact the winners by phone or email. If prizes are not claimed by May 7, 2021, MCHF reserves the right to keep the prize for other fundraising campaigns or select another winner from the raffle pool. Winners may have to pick up larger items at our office in Jefferson City.
Proceeds go to youth conservation programs in Missouri.
By sharing your contact information with us, you are opting in to receive mailings and emails about our programs. You may always opt out of receiving further information.