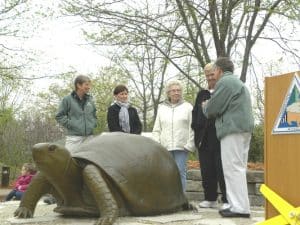 On April 16 staff at Runge Conservation Nature Center dedicated a bronze sculpture of a three-toed box turtle. The sculpture recognizes the commitment of the center's volunteers who donate 7,500 hours annually to support conservation education in Jefferson City. Seven hundred people attended the event. "April is volunteer appreciation month, so what better time to dedicate this wonderful sculpture to our volunteers who are our backbone, our heart, and our soul," stated Kathy Cavender, Nature Center Manager. "Our mission is to connect people to nature. Building strong connections to Missouri's outdoors is imperative for a high quality of life and wise stewardship of our resources. This sculpture will help us accomplish our mission."
A grant from the Missouri Conservation Heritage Foundation, and many private donations, funded the sculpture. About half of those donations came from MDC staff and nature center volunteers. Tom Schulte, a nationally recognized artist, donated most of his time and energy to this project. Tom's art graces private collections, universities, and state Capitols. Schulte has personal connections to the nature center; three of his children have served as volunteers there. The imposint bronze turtle accomplishes several purposes. Artist Tom Schulte with sculpture. First, this sculpture melds the fine arts with nature. As one of the volunteers, Holly Grantham, so eloquently wrote, "Nature and art do not demand anything from us, as we might presume. Rather, they invite each of us into their company".
Second, it helps people identify with a familiar and accessible Missouri animal in an interactive and fun way. Visitors will interact with this public art. People will have fun studying the turtle. They might appreciate the great detail in a turtle's shell, or count the turtle's toes to verify its name: the three-toed box turtle.
Third, it honors and recognizes the nature center volunteers who donate 7,500 hours annually to support conservation education in Jefferson City. "This is an opportunity to shout our appreciation to this community", says Cavender. "This turtle shouts – THANK YOU VOLUNTEERS! Where else can you see a turtle shout?"
A sign near the sculpture names six volunteers who made an enormous difference in the community. The volunteers are Jan Burrus, Golda Trower, Clarence Higgins, Gail Oerke, Nadine Marshall, and Pearl Gentili. Names of others will be added to this esteemed list as Runge continues connecting people with nature.
Volunteers and staff chose the box turtle for their sculpture because it is a familiar Missouri animal — even to children. Its slow, quiet, and non-threatening disposition connotes persistence, patience, and friendliness. Its long life span connotes enduring qualities. Even the turtle's shape works well for the nature center. The sculpture lacks sharp points or edges which may cause safety concerns with smaller children.
They chose bronze because of its dark, natural color and durability. The patina will change with visitor use. Bronze also allows for very fine details, increasing the lifelike quality of the art.