Unexpected sport builds confidence
MoNASP – anyone can succeed
After trying multiple times, the young high school girl still couldn't hit the target set up 10 meters away. It was her first time shooting a bow and arrow.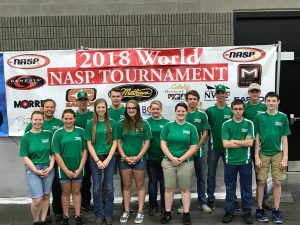 Through tears, she told her coach she couldn't do it and wasn't coming back to practice. But Jeremy Tappel, assistant coach of the Blair Oaks High School archery team, encouraged her to try again. Now this student is shooting so well, she qualified not only for state, but also for the national and world archery tournaments.
Young men and woman participating in Missouri National Archery in the Schools (MoNASP) all have one thing in common. Confidence.  
"I'm more confident talking with people and I'm more comfortable in front of crowds," said Jeremy Stockman. He's a senior on Blair Oaks' team. Being on the archery team has even helped him in the deer stand. He's steadier and better able to concentrate on his form.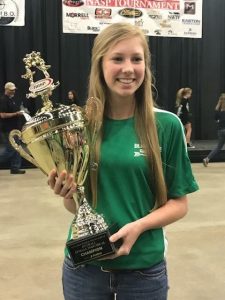 For Kamryn Twehus, a Blair Oaks' junior, archery has helped her meet many people from different schools. "I'm not as shy as I used to be," she said.
Kamryn won the overall individual world champion title at the 2018 NASP World Tournament in Louisville, Ky. in June. She explains, "I like that that this sport isn't limited to a certain group of people – anyone can do it."
The Missouri Conservation Heritage Foundation (MCHF) and the Missouri Department of Conservation (MDC) are teaming together for the third year to host the MoNASP State Tournament at the Branson Convention Center March 22-24, 2019.  
PAL – reinforcing relationships
Light-hearted trash talking stopped soon after the first arrow flew. Forty kids participating in the archery portion of "cop camp" were hooked on a new sport and focused on learning it together.
Every summer, the St. Louis County Police Athletic League (PAL), hosts a fun, informal camp with the goal of building and reinforcing relationships with youth in the community they serve. This year at camp, they added archery with the help of donated archery equipment from MCHF and MDC.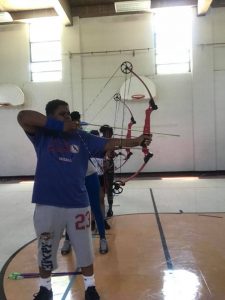 "We were able to introduce a new and engaging skill that not only entertained our members, but also instilled increased levels of focus, dedication and perseverance in each and every member," said Brandon Sierra, officer with the St. Louis County Police Division of Special Operation.
13-year-old Tanya was surprised that she was naturally good at something she had never heard of before. She said the key to her success was not overthinking the process because "that way there isn't time to get nervous or shaky."
She added archery is different because you don't have to be big, fast or strong to do it well. Archery has given her the confidence to try new things.
Maurice, also 13 years old, laughed when he recalled his first attempt at archery. He held the bow backwards with the bowstring away from him and the frame near his face.
"I'm happy I learned to at least hit the target most of the time," said Maurice. "Archery can be frustrating, but it makes you focus if you want to improve. I want to beat Tanya and Officer Sierra next year!"
Strengthening communities with green space
Residents of the Walnut Park neighborhood in St. Louis have hope. Hope that their neighborhood will become vibrant, safe and inclusive.
Working with Green City Coalition's (GCC) Neighborhood Green Space initiative through a grant that the Missouri Conservation Heritage Foundation administers, Walnut Park residents and Northwest High School students participated in five workshops to re-envision their neighborhood.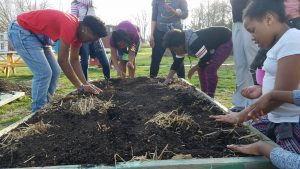 Residents identified 20 acres of vacant land to convert to permanent open space. The student-led plan creates a multiuse outdoor classroom/community park that manages stormwater and mitigates heat island effects. A baseball field that frequently floods is converted to a rain garden to manage stormwater from the adjacent school, parking lot and streets. An outdoor pavilion with rain barrels and raised beds serves school and community uses. Vacant lots and park turf converted to prairie species and trees reduces mowing emissions and enhances infiltration.
According to Basiyr Rodney, president of Walnut Park East Neighborhood Association, "The impact this community engagement project has had on the Northwest High School students has been amazing. They've learned about ecology, natural systems, and methods to improve, enjoy, and maintain a healthy environment.
"After working with a popular local artist, the students painted expressions of hope on many of the vacant properties surrounding Gregory J. Carter Park. This sparked optimism and great expectations for the future among many of the neighborhood residents."
City of St. Louis Mayor Lyda Krewson said, "This project strengthens citywide efforts to increase neighborhood connections to nature, addresses stormwater issues, and increases quality urban wildlife habitat in underserved St. Louis communities through the removal of vacant and abandoned spaces."
Habitat for monarchs and pollinators continues to grow
Monarchs and pollinators have a new feeding area to discover at the Audubon Trails Nature Center in Rolla, Mo.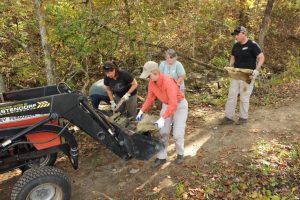 As part of the Missourians for Monarchs grant administered by the Missouri Conservation Heritage Foundation, the Ozark Rivers Audubon members and the 2017 class of Meramec Hills Master Naturalists prepared and planted seed for a monarch and pollinator garden on 17 acres of the 70-acre nature reserve.
"The pollinator garden is a great addition to the nature center because it helps our visitors learn about native plants and realize that pollinators need native plants for food, reproduction and shelter," said Louise Wilkinson, Audubon Trails Nature Center Coordinator.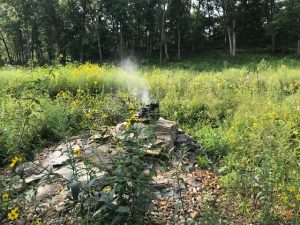 The garden also includes a water feature with a fountain/mister for the birds. In addition to planting seeds, the master naturalists collected native seeds from the property to mix with purchased seed to be planted this winter.
"The Audubon Trails Nature Center includes many different habitats – glade, woodland and prairie that have been preserved and improved to attract migrating and resident birds," said Susan Wrasmann, volunteer chair of the Meramec Hills Master Naturalists. "We realized that we could build on that success and create an accessible new prairie area to attract monarchs and pollinators along an accessible concrete path."
Paddling 100 miles of the Magical Missouri River
Power. Energy. Force. These paddler's words accurately describe the Missouri River in all her glory.
For the third year in a row, Paddle MO participants got to experience the raw power of the Missouri River by paddling it themselves. They embarked on a 100-mile, 5-day educational journey on the last 100 miles of the Missouri River. They started in Hermann and ended at the confluence with the Mississippi River. During the trip, participants:
Camped in picturesque locations.

Ate locally sourced meals.

Conversed with and learned from experts about the history and ecology of the river.

Visited historic river towns.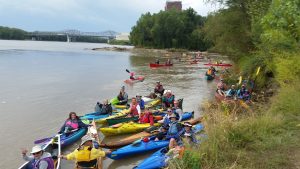 According to one participant, "You cannot understand the river until you get on the river. There are lots of myths out there about it being scary, dangerous, etc., but with a group of experienced paddlers you learn the truth about it. And bigger still, you learn the importance of the river – from habitat to wildlife to it being a clean water source for people, and more."
Since Stream Teams United started this outreach experience in 2016, the Missouri Conservation Heritage Foundation has supported this adventure in multiple ways.