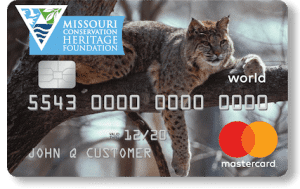 Missouri Conservation Heritage Foundation (MCHF) has partnered with Charity Charge to bring you the MCHF World Mastercard®.
How It Works
This card automatically donates1 1% back on all purchases to Missouri Conservation Heritage Foundation, SO we can continue advancing conservation and appreciation of Missouri's fish, forest, and wildlife resources.
Donation may be tax deductible2
Make your first purchase3 and Charity Charge will donate $25 to MCHF3, helping preserve an entire acre of Missouri wildlife land
*Important Terms and Conditions
You will earn and accrue a Benefit equal to 1% of Net Merchandise Purchases based on purchase activity and usage of the Account. "Net Merchandise Purchases" means purchases of merchandise or services on the Account, less any returned merchandise credits or service credits posted to the Account. Net Merchandise Purchases does not include Cash Advances, Balance Transfers or transactions using Convenience Checks or any associated fees, finance charges, traveler's checks, money orders or associated fees, money transfers or other fees, gaming chips, or fees or premiums for coverage or insurance to protect the balances of an Accountholder's Account. Questions concerning eligible transactions and what constitutes Net Merchandise Purchases will be determined in the sole discretion of Commerce. Commerce will forward your earned Benefit to the designated donor network named by Charity Charge and Charity Charge will post the Benefit to your Charity Charge Member account.
Consult your tax advisor for determination of tax deductibility.
Within 90 days following the account opening of your new MCHF World Mastercard® credit card, approved applicants must use the card to make a purchase, balance transfer, or cash advance for Charity Charge to contribute $25 to MCHF. By applying for the MCHF World Mastercard®, you are authorizing Commerce Bank to share information with Charity Charge.