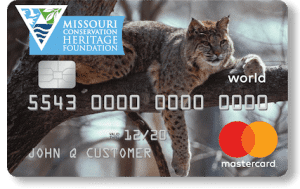 Support Conservation With Every Swipe
Missouri Conservation Heritage Foundation (MCHF) has partnered with Charity Charge to bring you the MCHF World Mastercard®.
How It Works
This card automatically donates your cash back rewards to MCHF so we can continue advancing conservation and appreciation of Missouri's fish, forest and wildlife resources.
Earn unlimited 1% cash back1 donations on every purchase.
Donations are tax deductible2 and there are no annual fees3.
MCHF receives a bonus $25 donation4 after your first purchase.
Support Missouri conservation with your everyday purchases.
1. A Cash Back redemption is applied as a charitable contribution to the Missouri Conservation Heritage Foundation through Charity Charge and will be automatically processed once the minimum criteria has been met. 2. Charity Charge represents that your 1% Cash Back donation is tax deductible. Please refer to www.commercebank.com/charityterms for complete terms and conditions of the Charity Charge rewards program. 3. Please see the Important Terms and Conditions. 4. Within 90 days following the account opening of your new MCHF World Mastercard® credit card, approved applicants must use the card to make a purchase, balance transfer, or cash advance for Charity Charge to contribute $25 to MCHF. By applying for the MCHF World Mastercard®, you are authorizing Commerce Bank to share information with Charity Charge.