Our international work in other countries helps support a variety of wildlife that we hold dear, including the Monarch butterfly and migratory birds.
Robert Gallardo and Olivia Diaz, creators of the Guide to the Birds of Honduras and newly published Guide to the Butterflies of Honduras, that MCHF supported. This book has officially been created! However the work is not done! This country is home to high biodiversity levels, but many different pressures make it hard to protect preserves and wildlife populations. Their work helps educate people in Honduras and around the world about the importance of protecting our natural resources.
Conservation Empowered by the Publication of Natural History Books
By Robert Gallardo and Olivia Diaz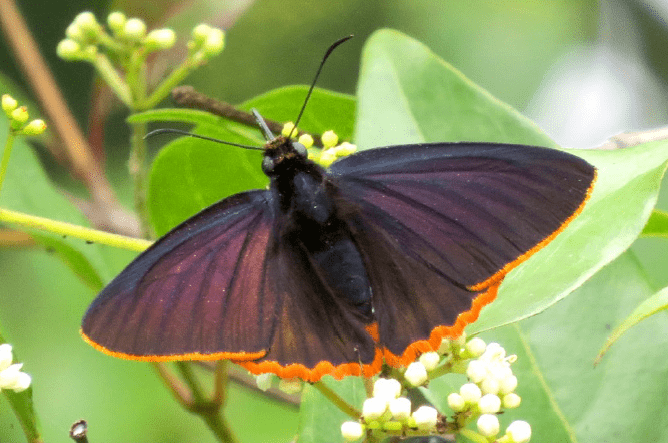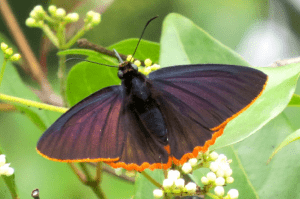 In northern Central America, Honduras acts as a crucial "melting pot" for biodiversity, much like the phenomena observed in the Darien Gap between Panama and Colombia. However, one realizes that harboring high biodiversity levels or endangered species does not guarantee wildlife protection. As seen elsewhere in developing countries, population increase and other factors continue to exert undue pressures on its dwindling protected areas and diminishing wildlife populations. Even as humanity struggles to cope with COVID-19, dedicated individuals continue to make headway in conservation, looking for innovative and sustainable solutions toward wildlife and habitat protection.
Honduras; often referred to as the "Banana Republic," entangled in the Contra Affair of the '80s, plagued by political corruption and recently struck by two consecutive major hurricanes. It is a country riddled with strife, but proactive citizens, Robert Gallardo and Olivia Diaz continue to conserve its rich natural heritage and reach out to children with environmental education. After their full-sized Spanish edition to the Guide to the Birds of Honduras was published, Robert and Olivia donated copies to schools in rural Honduran communities provided access to 10,000 school children.
They are now working on another natural history guide that will focus on Honduras' rich butterfly diversity. Together with their Pro Nature Honduras Foundation, their goal is to publish a field guide to Honduras' butterflies soon. They have been working diligently for several years, inventorying the incredible diversity found within the country. Before Robert and Olivia's work, little was known about the country's butterflies. They have added three-hundred species to the country list and discovered three undescribed species (all three are currently in the process of being formally described).
Robert and Olivia have been fortunate to receive technical assistance from numerous international institutions and other experts to undertake this ambitious project. This will be the first book in the region to treat a single country, featuring all known species within all six families of butterflies while utilizing material only from Honduras.
The overall project budget is $17,500, covering all production and distribution costs and allowing them to print a limited number of copies. Just as with their Guide to the Birds of Honduras, if they reach this goal, Robert and Olivia will commit themselves to donate copies to public schools.