National Lewis & Clark Conservation Awards Recognize Conservation Champions
Honorees include Simon Roosevelt, Theodore Roosevelt's great, great grandson, Penny Pennington, CEO and managing partner of Edward Jones, Marilynn Bradford, former Missouri Department of Conservation (MDC) Commissioner, Brad Jacobs, former MDC ornithologist, and Missouri Birding Society, a statewide all-volunteer organization dedicated to the preservation and protection of birds and other wildlife forms.
Jefferson City, Mo. – May 11, 2021 – With its fifth annual National Lewis & Clark Conservation Awards ceremony Thursday, May 20, 2021, the Missouri Conservation Heritage Foundation (MCHF) will recognize individuals and organizations that lead the charge for the appreciation and conservation of our natural resources in Missouri and beyond. The celebration will take place at The Millbottom in Jefferson City, Mo. at 5 p.m.
"We are proud to host this event as a way to recognize national and state conservation leaders and organizations that go above and beyond to support our conservation legacy," says James E. (Gene) Gardner, president of the MCHF board. "It is our mission to support the goals and objectives of the Missouri Department of Conservation and this fundraising event enables us to back a wide variety of conservation projects."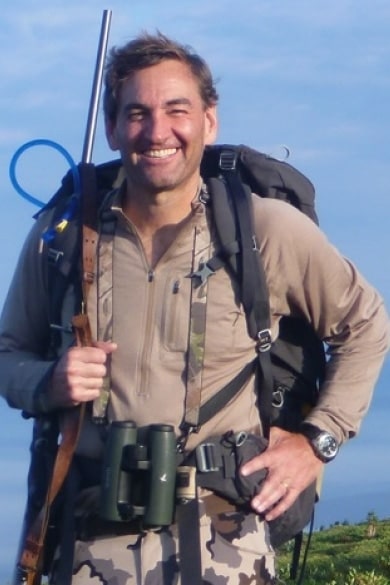 Simon Roosevelt, principal of Olimpia Fund Management, Ltd. and Theodore Roosevelt's great, great grandson, will be honored with the Corps of Discovery National Conservation Award. It is the top award given by MCHF for leadership in conservation at the national level. This award is given to an individual based upon exemplary service, inspiration and commitment to benefit the conservation cause.
Roosevelt is an avid hunter and conservationist whose interests have involved him in a wide variety of conservation and environmental projects in North America, South America and Africa. Current projects include the Conservation Roundtable, a forum that brings together the CEO's of American hunting, environmental, and land conservation organizations to discuss and act on larger issues of common concern. He is also a writer and speaker on hunting and conservation issues. Roosevelt is at work on a book portraying the essential connection between American hunting and conservation. Intended primarily for non-hunters, the book will be a tribute to American hunting, its conservation legacy and crucial role in conservation today, and its integral part in the shaping of American character and heritage.
Roosevelt is a Commissioner of the New York State Office of Parks, Recreation and Historic Preservation for the New York City Region. He is a regular member and director of the Boone & Crockett Club, and a member of the Camp Fire Club of America; he is chairman of the Scenic Hudson Land Trust; and he is a member of the President's Advisory Council of the National Wildlife Federation.
"Foremost, I am grateful to the Missouri Conservation Heritage Foundation for the work they do to support and promote conservation," says Roosevelt. "And I am honored to receive its distinguished award, joining the august ranks of Corps of Discovery recipients dedicated to advancing American conservation."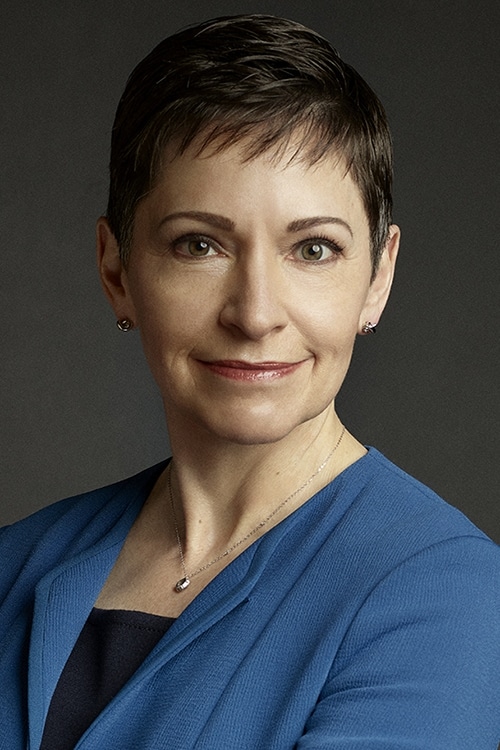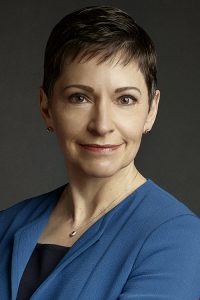 Penny Pennington, managing partner of Edward Jones, will be honored with the Pat Jones/York Spirit of the Wilderness National Conservation Award. This award embodies the exploratory spirit of entrepreneurs and honors an individual who has dedicated their life to the promotion, protection and service of wilderness and natural resources throughout Missouri. The award is in honor of York, a pivotal contributor to the success of the Lewis & Clark Expedition, and in honor of Pat Jones, spouse of Edward "Ted" Jones Jr., for the dynamic role she has played in conservation in Missouri. Jones was the first recipient of the award in 2016 and her name was added to it in 2017.
Recently named No. 33 in her second appearance on the Fortune Most Powerful Women in Business list, Pennington is the sixth managing partner in the firm's 99-year history. She is responsible for the firm's strategic direction, working together with more than 49,000 associates across North America to make a positive impact in the lives of Edward Jones' clients, colleagues and communities.
Pennington is an active member of the St. Louis community, serving on the boards of the Federal Reserve Bank of St. Louis, United Way of Greater St. Louis, the Donald Danforth Plant Science Center, Washington University in St. Louis Board of Trustees, the Whitaker Foundation and Executive Committee of the Chair's Council for Greater St. Louis, Inc. Pennington also actively champions Edward Jones' national presenting sponsorship with the Alzheimer's Association. In her free time, she loves biking on the Katy Trail, the country's longest recreational rail trail.
"It's a tremendous honor to receive the Pat Jones / York Spirit of the Wilderness National Conservation Award," says Pennington. "The award is an honor in its own right, but the fact that it's named after our own Pat Jones makes it even more special. The impact Pat had on Missouri conservation can't be overstated, and her presence is still felt and seen at our firm every single day. I'm proud that we continue her dedication to conservation as we seek to make a positive impact in the communities we serve."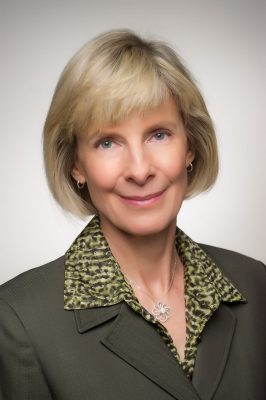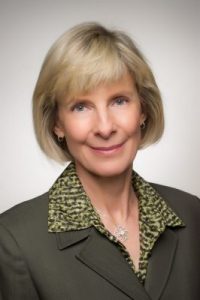 Former Missouri Department of Conservation (MDC) Commissioner Marilynn Bradford was hand selected by Missouri Governor Mike Parson to receive the Governor's State of Missouri Conservation Award. This award goes to an individual who reflects the spirit of conservation, shows outstanding leadership and has positively contributed to conservation principles and programs in Missouri.
Bradford is fourth generation Missourian with a lifelong love for the outdoors and a proven commitment to public service, primarily working in community and public relations. She holds a BA in Business Administration and advanced leadership training from the Universities of Harvard and Texas. She has worked extensively the Robert Wood Johnson, Ewing Kauffman, Danforth, and Annie E. Casey foundations developing critical funding for Missouri children and health care initiatives. In 2019, she was named Zonta's Woman of Achievement. She was appointed to serve six years as a Conservation Commissioner in 2013 and elected twice to serve as Chairman. She was one of only four women to serve in the Commission's 85-year history. She is a life member of the Conservation Federation of Missouri and executive board member of the Summit on the Future of Missouri Outdoors. She was also recently appointed by Governor Parson to sit on the Missouri Humanities Council board of directors. She is an avid fly fisher and enjoys trap shooting. She and her husband own a timber and hunting property in Madison and Wayne counties and own several rice and soybean farms in Pemiscot County. Together, they are the only husband and wife individuals to serve as Conservation Commissioners.
"What a great honor it is to receive the Governor's award and recognition from my fellow conservationists," says Bradford. "It came as a total surprise and I am deeply humbled. Public service is so rewarding and the one place where one can truly make a significant difference for future generations. I am proud to work alongside so many thoughtful and committed people. I appreciate Governor Parson for selecting me and for his continuing support to ensure Missouri Conservation maintains its number one status across the nation."
The Missouri Birding Society (MBS), a statewide all-volunteer organization dedicated to the preservation and protection of birds and other wildlife forms, will be presented with the Sacagawea Community and Partnership Conservation Award. This award goes to an organization focused on exceptional community and partnership building resulting in progressive changes in conservation programs.
As Missouri's ornithological society, MBS has a strong conservation action record through its 120-year history. Current activities include agreements with Missouri Department of Conservation and Missouri Department of Natural Resources State Parks to conduct bird monitoring surveys and other data gathering and educational services.
These cooperative agreements, known as the CACHE/SPARKS Program, were the brainchild of Brad Jacobs, whose vision continues as the monies earned from these services are used in MBS's contribution to partnership projects in habitat improvement and restoration, conservation education, and wildlife monitoring.
To date, MBS has used more than $100,000 in these funds to facilitate more than 50 diverse conservation partnership projects, including the MOTUS tower system; the Spanish edition of The Birds of Honduras; a dozen habitat education resident camp sessions for teens; the Missouri Young Birders Club; and wetland, prairie and savannah restoration work.
"The Missouri Birding Society is pleased to accept the award because we view it as an affirmation of the success of Brad Jacobs' innovative foresight and recognition of the value of volunteer commitment," says William (Bill) Clark, MBS historian. Clark has been the most prolific, consistent contributor to the site birding visits that are the heart of the CACHE/SPARKS program. He launched the CACHE program in the first week of February 2006, with the first of 796 weekly birding trips to survey conservation areas and state parks.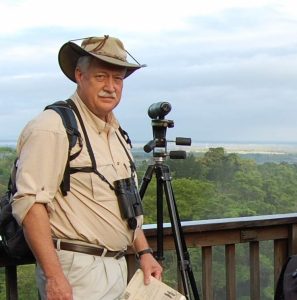 The Missouri Legacy Conservation Award will be presented posthumously to Brad Jacobs, a former MDC ornithologist and Missouri Botanical Garden botanist. This award recognizes Jacobs' exemplary commitment and service to the conservation cause in Missouri. The work he did while with the Missouri Department of Conservation has helped bring international awareness to the need to support bird conservation throughout their full lifecycle. MCHF is honored that he served on their Migratory Bird Advisory Committee to further his life's mission.
Jacobs worked hard to educate others on the threats that many of Missouri's breeding birds face on migratory stop-over sites and the wintering grounds in Central America, northern South America and eastern Mexico. Internationally, Jacobs' leadership and vision were critical in the creation of the Association of Fish and Wildlife Agencies' Southern Wings Program. Southern Wings is a partnership of state agencies that support a common vision of providing a funding mechanism for bird conservation in Mexico, Central America, and South America. Southern Wings focuses on conservation efforts south of our border to support priority birds through their annual cycle while protecting the investments of participating state agencies. Long-distance migrant birds that we consider "our" Missouri birds often spend up to eight months of the year south of our border. Jacobs emphasized the need for conservation work on the wintering grounds and supported and cultivated partnership efforts in relevant countries that are key to migratory birds. Since its inception in 2009, Southern Wings has grown to over 30 participating states and raised almost $3 million for migratory bird conservation.
In addition to the National Lewis & Clark Conservation Awards, MCHF and MDC will be presenting Partner Awards to those organizations that have partnered with MDC to support Missouri conservation.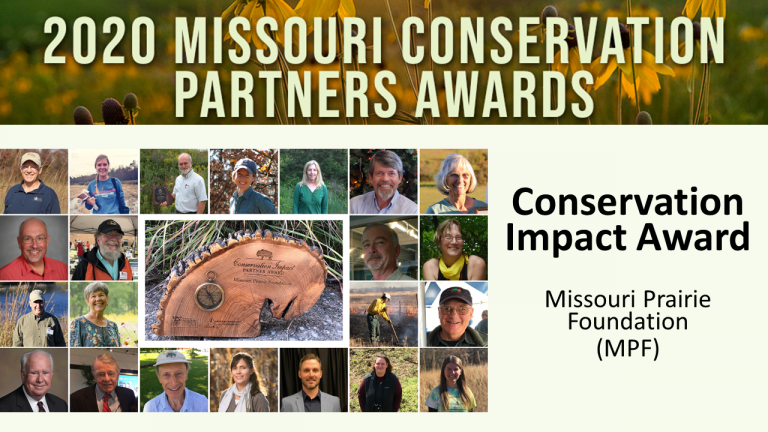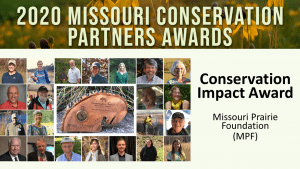 The Conservation Impact Award will be presented to the Missouri Prairie Foundation and Pheasants Forever & Quail Forever for demonstrating a commitment and ongoing positive impact to the health of Missouri's land, water and forests, and the sustainability of all fish and wildlife. These organizations continuously exemplify diligence in addressing key conservation challenges and opportunities. While respecting and valuing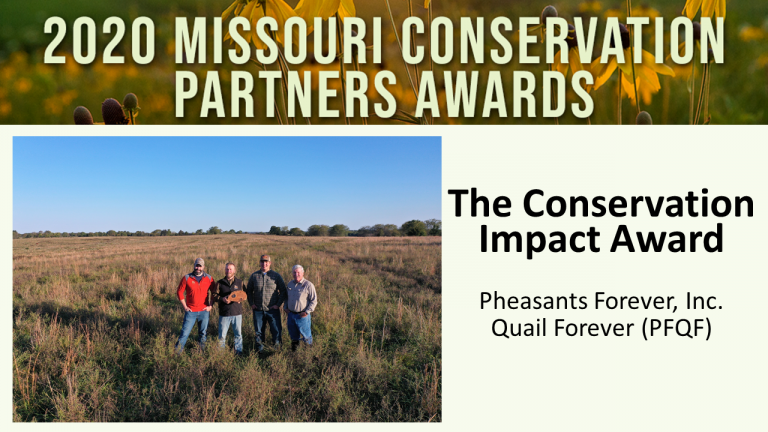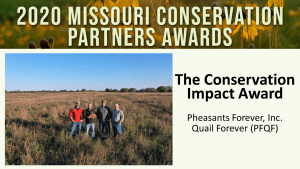 tradition, these organizations consistently challenge their staff and partners to pursue innovative opportunities to add lift to the Missouri conservation community for the benefit of the state's invaluable natural resources and all citizens — present and future.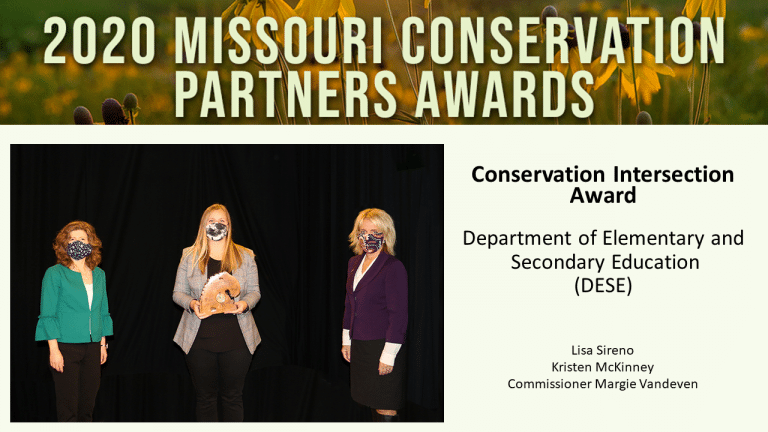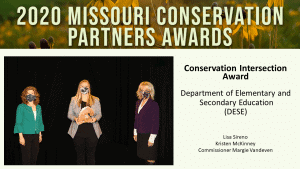 The Conservation Intersection Award will be presented to the Missouri Department of Elementary and Secondary Education for best demonstrating a commitment to providing that critical conservation intersection where Missourians have places to go to enjoy nature and understand the value of nature in their lives. Since the inception of MDC's Discover Nature Schools curriculum, the Missouri Department of Elementary and Secondary Education has provided ongoing critical support of MDC curricular units and educational field staff in a myriad of critical ways. This partnership of training, assistance, and mutual collaboration has inspired the MDC conservation education team's energy and focus to continue the creation of quality conservation education curriculum.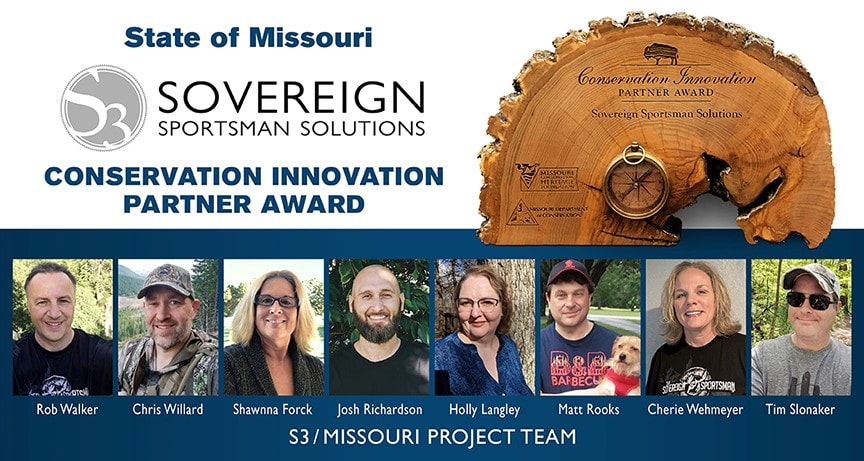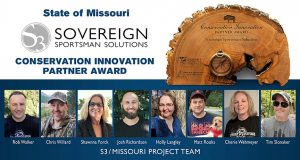 The Conservation Innovation Award will be presented to Sovereign Sportsman Solutions (S3) for best demonstrating a commitment to innovation, including improving the "business of conservation" through support of customer service, continuous improvement and/or employee development initiatives. Sovereign Sportsman Solutions has been a valued and collaborative partner with MDC since 2015 when it began providing sale and distribution of sport and commercial wildlife permits for the department. Its professional team and industry leading service-delivery methods have ensured the continued development of MDC's innovative permit products and services to meet both customer-focused initiatives and agency-related regulatory requirements.
All of Missouri's electric cooperatives will also be honored with a Partnership Award for supporting youth outdoor activities and working closely with MDC on creating pollinator habitat, including informing their members about the value of pollinators and how they can make a different on their own properties.
The National Lewis & Clark Conservation Award Celebration will take place at The Millbottom in Jefferson City, Mo. (400 W Main St., Jefferson City, MO 65101). The reception starts at 5 p.m. with appetizers, refreshments and silent auction. Dinner starts at 7 p.m. with a live auction and the awards presentation following. Tickets are $200 per person or $2,000 for a table of ten and may be purchased by May 17 at mochf.org or by calling 800.227.1488.
This celebration is made possible by the generosity of the following supporters: Franklin Templeton, MFS Investment Management, Edward Jones, Invesco, Mondrian Investment Partners, Stifel Financial, Federated Hermes Inc., Goldman Sachs, WR Wealth Planners, Public House Brewing Company and St. James Winery.